Individual coaching and training for cyclists, mountainbikers, triathletes and handbikers and para-triathletes
Every sportsman and sportswoman who wants to achieve a certain goal in sports can realize this, in the best possible way, with the help and support of coaching and training.
Guido Vroemen's approach to coaching and training is unique, because it combines optimal coaching and training and data analysis with top sports medical care.
Coaching and training: an individual approach
Guido's coaching and training doesn't have various packages, limiting the number of moments of contact and training. Guido can be contacted as often as required. The training is monitored and analyzed daily, and, if necessary, the schedule can be adjusted. Schedules are made weekly. In this way you can work towards optimal achievements, focusing on enjoying the training, and, at the same time, running a minimal risk of getting injuries.
1.

Baseline measurement: Top sports medical check-up
At the start of a training/ coaching process, it's important to determine the status of health and exercise power. This is done in a top sportsmedical check-up. This includes an exercise test in which the aerobic-anaerobic level and VO2 Max are defined. This can be measured either on a bike or on a treadmill or both (in particular, for du-and triathletes). These tests result in specific training zones which are used for the training schedule. The zones of cycling are based on heartbeat and power. The zones of running are based on heartbeat and speed/ pace. The test also shows the metabolic efficiency, which means, how efficient is your body in burning fat and carbohydrate.
2.

What do you want to achieve: determine your goals
It's important to know what the goals are, both short-term and long-term. It's also important to pass on your weekly planning. By this, work related and private obligations can be taken into account, as well as certain fixed moments of training at clubs, sports centres, or with friends etc. In this way a schedule can be made which perfectly fits into your daily life.
3.

Analyzing, monitoring and adjusting: online log
Your schedule is put on TrainingPeaks weekly. It can be adjusted evry day if necessary. Apart from following the training schedules, it is important to keep the log updated daily. By the remarks (subjective feelings) in the log, Guido can see if the intensity is alright, if you feel relaxed and if there might be symptoms or imminent injuries. The training schedule and log are online. TrainingPeaks is the perfect tool for that. You will receive a name and password to log in in your own athlete account in the system. The costs of TrainingPeaks Premium account are included in the monthly fee and so there is no extra charge.
After logging in you will find yourself in your own training schedule/ log. In this screen training schedules are put which have been planned for you. These schedules are also sent by email, on the day before the activity is planned. After having finished the training, you can write, how the training went (how you felt about it) and also how your weight, morning pulse, feeling (rigidity, fatigue, if you feel like training, stress etc.) develop in the course of time.
Quick and good communication between training coach/ sports doctor and athlete is essential! By using these data it can be decided if an extra period of rest is necessary, or that recovery is alright and the schedule can be expanded. Also heartrate monitor files, GPS-files and powermeter files can be added. All this together gives a complete picture of how the training was performed.
Cycling can be directed and monitored perfectly by using wattage (input) and heartrate (output). Running can be directed and monitored by using running speed/ pace and heartrate. Evaluation of the weeks that passed can be done by using aforementioned files and various parameters can be calculated (Training Stress Score, Intensity Factor, Chronic Training Load). In this way we can see if you are still able to keep to your schedules in order to achieve your goals.
Guido will give you instructions on how to use TrainingPeaks.
Prices
Prices at request. The monthly fee is dependent on single or multi sports. Monthly fee starts at 200 euro/month for a single sport ( excl. sports medical check-up). Contact Guido for possibilities.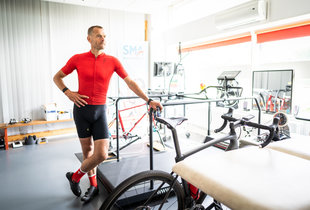 Want to know if Guido Vroemen
can guide you to top performances?
Let's talk about the options!
Contact info
Guido Vroemen
Known from tv
The absolute top in
Science in Training
Sports doctor and
medical biologist